350 Bedded Teaching Hospital
Neelima Hospitals takes pride in its fully equipped laboratory, where a wide range of lab investigations including Biochemistry, Pathology, Histopathology, Serology,Microbiology and Hormonal Assays are conducted using state-of-the-art equipment.
Welcome to Neelima Hospital's Blood Donor Room! We appreciate your willingness to contribute to our life-saving mission. Our comfortable and well-equipped room ensures a pleasant experience during your donation. With state-of-the-art equipment and strict adherence to safety protocols, we prioritise the well-being of both donors and recipients.
Welcome to Neelima Hospital's Doctor Consultation Room, where our dedicated healthcare professionals offer exceptional medical care.Patient privacy and confidentiality are paramount to us, and our consultation room provides a private and secure space for one-on-one consultations. We prioritise open communication and collaboration, ensuring that your concerns and questions are addressed with empathy and care.
Welcome to the CT Scan room at Neelima Hospital, where advanced technology meets compassionate care.Equipped with the latest generation CT scanner, we offer exceptional image quality and precise diagnostics. Our team of skilled radiologists and technologists ensures accurate interpretations of your scans, providing the highest level of care.
The Outpatients Department (OPD) at Neelima Hospitals offers a comfortable and efficient experience for patients. Neelima Hospitals is committed to high-quality healthcare, prioritising patient satisfaction through a patient-centric approach, spacious facilities, responsive front office services, and the expertise of senior specialist doctors.
Neelima Hospitals is committed to providing comprehensive round-the-clock emergency services. With a well-equipped casualty department and a dedicated team of professionals, the hospital offers immediate medical attention to critical cases. Modern operation theatres and an experienced surgical team cater to surgical emergencies.Neelima Hospitals's team of anaesthetists, physicians, medical officers, and assistants work together to deliver efficient and prompt emergency care. With advanced facilities and skilled professionals, the hospital is a reliable destination for urgent medical needs
Neelima Hospital's General Ward is a dedicated space providing essential medical care and support for non-intensive treatments. Advanced medical equipment, including monitoring devices and intravenous administration tools, cater to patient needs. The ward is connected to the hospital's laboratory and imaging services for timely diagnostics.Essential amenities, including clean bathrooms, enhance patient comfort and convenience during their stay.
Neelima Hospital offers advanced Electrocardiography (ECG) and Treadmill Test (TMT) services for accurate cardiac diagnosis and timely treatment. TMT assesses heart response to physical activity and stress, aiding in detecting coronary artery disease and evaluating exercise capacity. Continuous monitoring and experienced staff ensure safe testing. ECG and TMT at Neelima Hospital enable early detection, personalised treatment, and improved cardiovascular health outcomes.
Neelima Hospitals' emergency department is equipped with 18 beds and advanced medical equipment for comprehensive care.Anesthetists, physicians, medical officers, and assistants form a dedicated team, supported by efficient staff. Well-stocked with emergency drugs and disposables, the department ensures timely interventions. Neelima Hospitals prioritises advanced equipment, skilled professionals, and 24/7 emergency services to provide high-quality care during critical situations.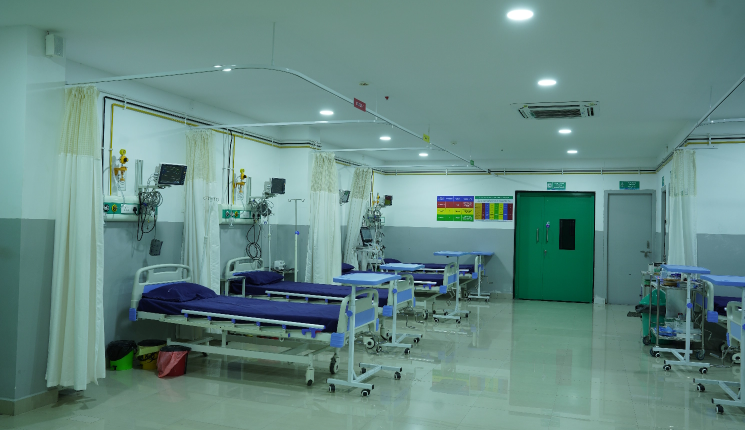 Neelima Hospital's Medical Intensive Care Unit (MICU) is a state-of-the-art facility providing specialised care and critical support for patients with severe medical conditions.The MICU manages a wide range of complex medical conditions and is equipped with advanced life-support equipment. Neelima Hospital's patient-centric approach emphasises open communication and collaboration, providing regular updates, discussing treatment options, and addressing concerns.
Neelima Hospital's Neonatal Intensive Care Unit (NICU) provides specialised care to newborn infants in need of intensive medical attention. The NICU collaborates with other departments to ensure comprehensive treatment for infants with complex conditions, optimising their health outcomes through an interdisciplinary approach.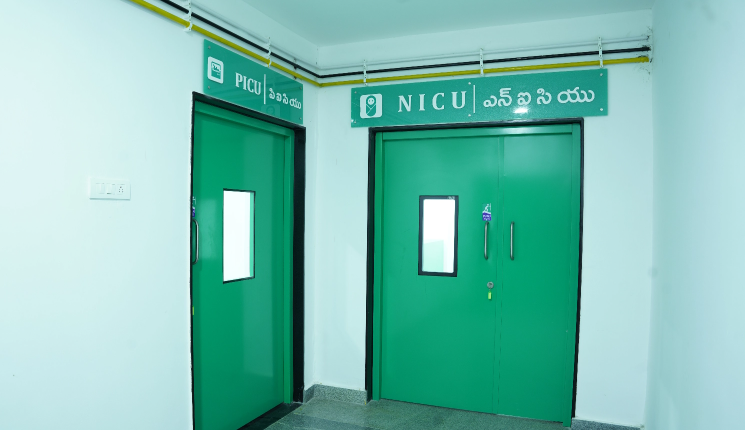 The PICU at Neelima Hospital provides exceptional care to newborn infants requiring intensive medical attention. The dedicated PICU team comprises neonatologists, paediatricians, nurses, and specialists who specialise in newborn care. The NICU collaborates with other departments for seamless care, employing an interdisciplinary approach to optimise health outcomes for newborns with complex conditions.
Neelima Hospital's state-of-the-art Operation Theatre ensures excellence in healthcare. The well-organised layout optimises workflow with designated zones for preparation. A highly skilled team of surgeons, anesthesiologists, nurses, and support staff collaboratively provide exceptional care. Their expertise, combined with advanced technology and meticulous design, ensures optimal patient outcomes.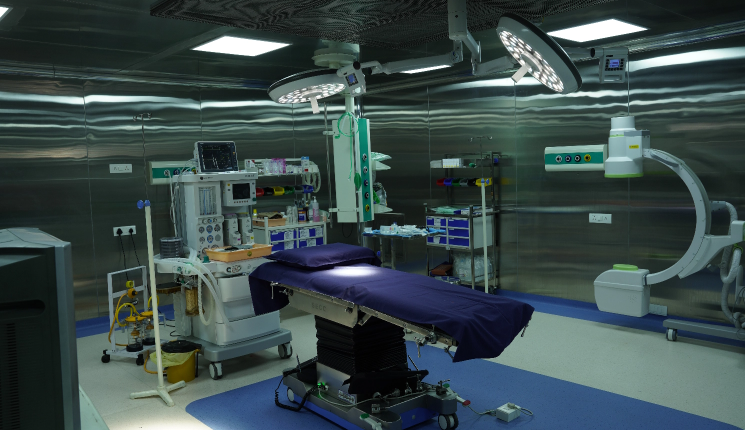 Neelima Hospital's state-of-the-art Operation Theatre ensures excellence in healthcare. The theatre maintains a sterile and controlled environment, minimising infection risks. Advanced surgical equipment and technology enhance precision and accuracy. Their expertise, combined with advanced technology and meticulous design, ensures optimal patient outcomes.
The Patient Ward at Neelima Hospital provides comprehensive and compassionate care to patients. Monitoring systems ensure constant surveillance and rapid response to emergencies. Patients receive round-the-clock monitoring, medication administration, and assistance with daily activities. The nursing staff offers emotional support and maintains a hygienic environment. The Patient Ward at Neelima Hospital aims to promote a speedy recovery and provide a comforting environment for patients in need.
At Neelima Hospitals, we provide in-house pharmacy services that offer a comprehensive range of standard and stocked drugs, including life-saving medications. Our pharmacy is well-equipped to cater to both outpatient and inpatient needs. With our 24-hour pharmacy services, patients can access the required medications at any time, ensuring uninterrupted availability of essential drugs.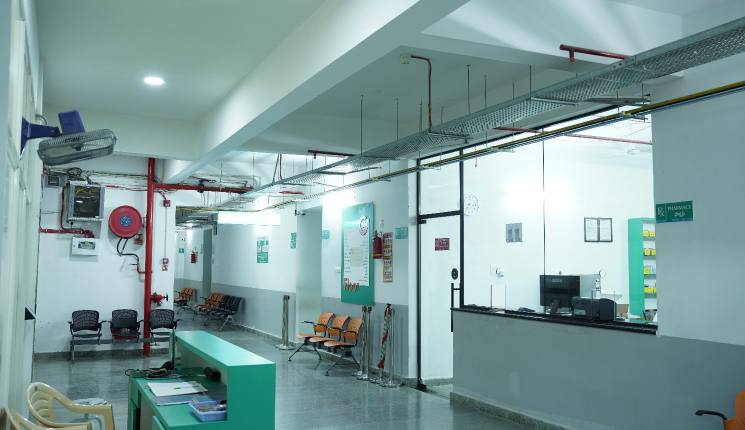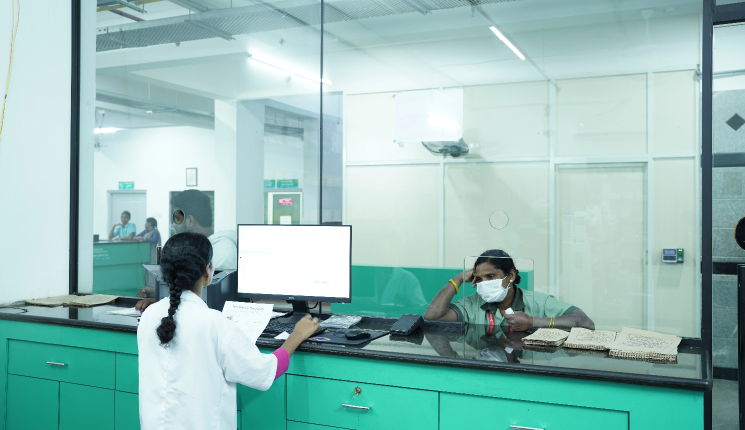 Neelima Hospital, a renowned healthcare institution, is hosting a memorable and joyous reception event. Meaningful conversations and connections foster a sense of community. Testimonials highlight the positive impact of Neelima Hospital, showcasing its exceptional care and compassionate service. The reception event is a testament to the hospital's commitment to excellence in healthcare.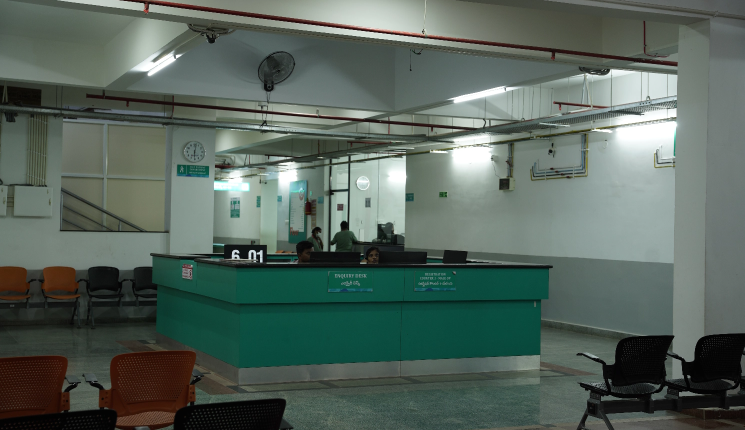 Neelima Hospital's visitor lobby provides a warm and welcoming environment for patients' family members and friends. Comfortable seating arrangements, including plush sofas and chairs, cater to individuals and larger groups. Soft background music and large windows create a calm atmosphere, while indoor plants and tasteful decorations enhance the space's appeal.
Neelima Hospital prioritises accurate diagnosis and effective treatment through stringent sample collection protocols. Clear instructions are provided to patients for accurate collection. The dedicated laboratory staff efficiently processes samples, utilising state-of-the-art equipment and standardised procedures. Neelima Hospital recognizes the importance of comprehensive sample collection for accurate diagnoses and appropriate treatment plans.
Neelima Hospital utilises advanced X-ray technology to provide accurate and efficient diagnostics.A dedicated team of radiologists and technicians ensures high-quality care during X-ray procedures, with expertise in equipment operation and image interpretation. Stringent protocols are in place to minimise radiation exposure and prioritise patient safety. Neelima Hospital offers a patient-friendly experience, with comfortable waiting areas and compassionate staff. The hospital has streamlined the process of obtaining X-ray reports, facilitating timely communication and effective treatment planning with referring physicians.