Chancellor, Anurag University
Dr. UB Desai, an eminent academician and accomplished researcher, serves as the Chancellor at Anurag University. With a distinguished academic background, he obtained his B.Tech. from IIT Kanpur, M.S. from the State University of New York, USA, and PhD from The Johns Hopkins University, USA. As the founding Director of IIT Hyderabad and presently as Prof. Emeritus at IIT Hyderabad, Dr. Desai has made remarkable contributions to the field of education.
Throughout his illustrious career, Dr. Desai has held significant positions, including faculty roles at Washington State University and IIT Bombay. He has also served as the Dean of Students at IIT Bombay, and as a visiting professor at esteemed institutions such as Arizona State University, Purdue University, and Stanford University.
Dr. Desai's research interests lie in wireless communication, wireless sensor networks, cyber-physical systems, IoT, and AI. His scholarly work includes the guidance of 25 Ph.D. students and the authorship or co-authorship of nearly 300 peer-reviewed papers in prestigious international journals and conferences. Furthermore, he has co-authored nine monographs, further cementing his expertise in his research areas.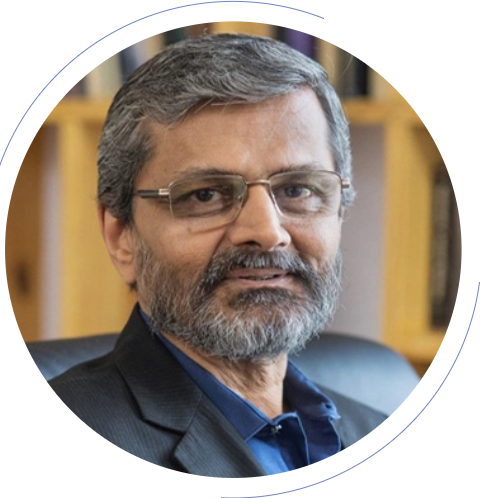 As Chancellor, I recognize the crucial role that Neelima Institute of Medical Sciences plays in shaping the future of healthcare. Our institution is dedicated to providing a comprehensive and quality medical education to our students, empowering them to become skilled healthcare professionals capable of making a positive impact on society.
Prof. S. Ramachandram, an esteemed academician and accomplished researcher, currently serves as the Vice-Chancellor of Neelima Institute of Medical Sciences. Hailing from the village of Samalonibavi in Gurrampode Mandal, Nalgonda District, he embarked on an impressive educational journey. Prof. Ramachandram completed his schooling at Government Schools in Samalonibavi, Pittalagudem, and Koppole.
Prof. Ramachandram's pursuit of knowledge led him to Osmania University, where he earned his bachelor's degree in Electronics and Communication Engineering in 1983. He further honed his expertise by completing a Master's in Computer Science and Engineering in 1985. His dedication to academic pursuits culminated in a Ph.D. in Computer Science in 2005, again from Osmania University.
With a career spanning 31 years, Prof. Ramachandram made significant contributions as a faculty member in the Department of Computer Science and Engineering at University College of Engineering, Osmania University. His unwavering commitment to education and research led him to retire from his esteemed position on December 31, 2019.
At Neelima Institute, we strive to create an environment that fosters intellectual growth, nurtures talent, and shapes compassionate healthcare professionals. Our aim is to provide a holistic education that equips our students with the knowledge, skills, and values required to excel in the dynamic field of medicine.
Vice Chancellor's Message
At Neelima Institute, we strive to create an environment that fosters intellectual growth, nurtures talent, and shapes compassionate healthcare professionals. Our aim is to provide a holistic education that equips our students with the knowledge, skills, and values required to excel in the dynamic field of medicine.
CEO, Neelima Institute of Medical Sciences
Mrs. Neelima, our esteemed CEO, is a highly accomplished and visionary leader with an exceptional educational and professional background. She holds a B.Tech degree from JNTU, Hyderabad, and an M.Tech degree from Osmania University, Hyderabad. Her strong technical foundation and academic prowess have provided her with a solid framework for exemplary leadership in the field of education with a remarkable career spanning over two and a half decades, Mrs. Neelima served as an Engineer in Transco, where she showcased exemplary expertise in managing complex projects and ensuring operational efficiency. Her contributions and dedication to the engineering field have been widely recognized and appreciated.
She is the Managing Trustee of the esteemed Gayathri Educational and Cultural Trust, which oversees the renowned Anurag Group. Mrs. Neelima has demonstrated exceptional leadership and an unwavering commitment to education. She has actively participated in the day-to-day activities of the Anurag Group, spearheading its growth and success.
Mrs. Neelima's strategic vision, passion for education, and astute management capabilities have been instrumental in propelling the Anurag Group to new heights of excellence. Her relentless efforts in creating an enriching and nurturing learning environment have positively impacted the lives of countless students.
As our CEO, Mrs. Neelima continues to lead Neelima Institute of Medical Sciences with unwavering dedication. Her visionary leadership inspires our faculty, staff, and students to strive for excellence, innovation, and academic rigor. Under her guidance, we remain committed to providing exceptional medical education and producing highly skilled healthcare professionals.
Registrar, Neelima Institute of Medical Sciences
Dr. Balaji Utla holds a Doctorate in Management. He has 36 years of experience spanning organizational strategy and development, and corporate social responsibility and academics.
Dr. Utla was CEO, Vice-Chairman and co-founder KRIA Healthcare Pvt. Ltd., before was founder-CEO PiramalSwasthya (formerly HMRI) and president (Corporate Sustainability) at Piramal Healthcare Ltd. He was involved in designing 108 emergency services and 104 health services.
Dr. Utla was the founder-CEO of Satyam Foundation initiated by Satyam Computer Services (now Mahindra Satyam). Under Dr. Utla's leadership, Satyam received the Corporate Citizen Award from FICCI in 2006 and the TERI Award in 2007. He also worked as the head of corporate strategy at Satyam Computer Services Ltd. He is a co-founder of Pennidhi Foundation that provides job training for rural Dalit and tribal youth.
He serves on the governing board of CVSR Engineering College and Anurag Group of Institutions.
He is Chairman of Center of Environmental Concerns an NGO in the service of dry-land farmers offering water conserving products and labour reducing tools for agriculture.
He also is advisor of Yugantar, an NGO working for at risk youth and RTI.
He has helped implement a Cognitive Based Therapy training module designed and adapted from experiments conducted at Chicago for juvenile delinquents, for youth on Rowdy Sheets.
Currently he is leading a consulting group helping startups and organizations desirous of growing into their next orbit.
He has many publications to his credit and is a regular speaker at health care conferences in India and abroad.
As Registrar, Dr. Balaji Utla plays a pivotal role in ensuring the smooth functioning of Neelima Institute of Medical Sciences. His vast administrative experience and keen attention to detail contribute to the effective management of academic operations and student affairs. His commitment to fostering a culture of academic excellence, research, and innovation aligns with the core values of our institution